Honda 'Green Dealer' Sets the Stage for EV Chargers With Solar Panels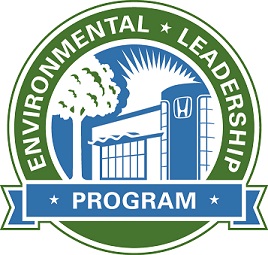 The Honda and Acura Environmental Leadership Programs – often referred to as the Honda "Green Dealer" Program – have helped more than 600 Honda and Acura automobile, powersports and power equipment dealers across the U.S. collectively reduce their carbon footprint, energy and water usage while enhancing their environmentally responsible business operations. Since the program's launch in 2011, the average dealership has reduced energy use by 20%, saving an average of $20,000 per year and $34 million in energy costs over the last 10 years.
Many dealers are implementing on-site renewable energy systems (Solar PV), or preparing "solar ready" roofs, which help offset the costs and energy of electric vehicle chargers. Learn how Larry Shriver, General Manager of Holman Honda (formerly Kuni Honda) in Centennial, Colorado, is seeing significant savings from the Honda Green Dealer Program—and is poised to see even more in Honda's electrified future.
What prompted you to join the Honda Environmental Leadership Program in 2016?
The easy and obvious answer is 'Why wouldn't I?' The program provides us with both cost savings and energy efficiency, and it also sends a positive customer message that Holman Honda is a dealership that cares about the environment—and we're backing it up with action.
One of the goals of program is to provide dealers with little- to no-cost savings opportunities. What's been your experience with this?
Impressive! Our biggest investment turned out to be our greatest savings. We get a lot of hail in Colorado, so we were in the process of putting up hail-mitigation netting when we decided to install solar panels instead. The energy savings have been two-fold: (1) the panels cut my energy bill by more than half and (2) I get utility rebates because the panels contribute energy to the local electrical grid. It's a win-win.
Colorado is known for its snow. Were you surprised at how well solar performed year-round?
To be honest, I wasn't sure we were going to see much savings from the solar panels. Since then, I learned that solar energy actually performs better in colder temperatures. Fortunately, our state gets a lot of sunshine, so the panels perform as efficiently – or even better – in the wintertime. We've seen surprising benefits, such as additional shade in the summer and more protection from weather in the winter.
What has been your biggest learning through this process?
It was eye-opening to see how energy-inefficient we were, and this is when we thought we were being efficient! We've seen a tremendous amount of overall improvement from even the easiest of changes. For example, we also converted to all LED lighting, and the energy savings from just that was … wow. You don't realize the reality of the situation until you see the numbers – the raw data – in front of you.
What differences have you noticed in your overall dealership environment since you've made changes?
I've noticed a surprising positive affect on the dealership. Something as simple as getting rid of the old, inefficient lighting by adding the LED lighting was huge. The LED lighting is a lot more 'energetic' – pun intended! (laughs) – and you get a clean, bright workspace. The solar panels bring in a ton of light and become a talking point between my staff and their customers.
What motivates you to continue with the program?
A little bit of everything. From a purely business standpoint, the cost savings are huge … greater than expected. There's also a sense of pride for myself and my staff. I love seeing the excitement in the faces of my staff when they explain to customers how the panels work.
What are you planning as far as future dealership facility upgrades?
We just went through a complete remodel several years ago, so our next biggest project is installing EV chargers, which are going to be very expensive. Fortunately, we've already offset the cost by installing solar panels, which, as I said, contribute to the grid and result in rebates. I also appreciate how the panels send a positive message to EV customers that solar energy is helping charge their cars. It's a huge win for our brand.
To learn more about the Honda Environmental Leadership Program, visit https://greendealer.honda.com/.
Back To News