Georgia Transmission Plant Supports Health Initiative in Rural Communities
Honda's Georgia Transmission Plant (TMP-G) has made a $100,000 donation to a local health system to support community outreach to people in areas of rural Georgia, through a program known as, "Healthy Haralson."
The initiative is named after Haralson County which it serves and where the Honda plant is located.
Honda is one of the top 10 employers in the county and most of its TMP-G associates reside there. Honda associates have partnered with the Tanner Health System regularly over the years, most recently planting community gardens and flowerbeds at three senior centers.
The donation to Tanner Health System will support "Healthy Haralson" programs in the areas of:
Substance misuse
Senior needs
Healthy lifestyle and education
Increasing awareness of existing resources
Increasing provider resources
Youth mental health
"Honda is very excited for this opportunity to partner with Tanner Health to support a healthy community," said Greg Dawson, manufacturing division lead of the plant. "Our Honda philosophy is to be a company that society wants to exist, and this partnership embodies that approach to give back to the community our associates live and work in."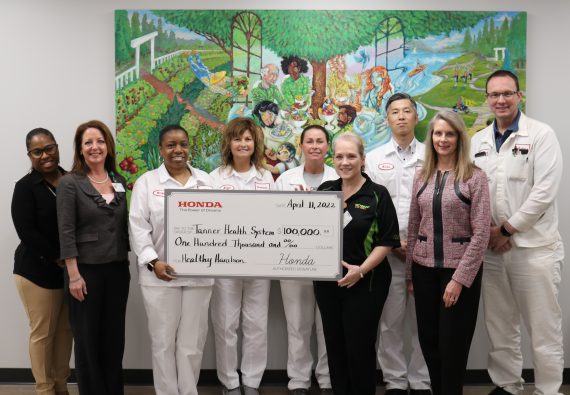 Tanner Heath/Healthy Haralson's mission is aimed at addressing the persistent inequities in health outcomes that disproportionately impact rural Georgians. Healthy Haralson's goal is improving social conditions that impact health, working to help make Haralson County a healthier place to live, learn, work and play by developing multi-sector community partnerships in an effort to expand community service opportunities.
Back To News