Manufacturing Day Doubles Student Participation with Second Virtual Event
For the second year in a row, Honda offered Manufacturing Day across the U.S. virtually, providing multiple workshop opportunities and games to students. This year's theme, Choose Your Own Path, invited participants to choose from a variety of workshops, ranging from information about Honda's Auto Development Center to Robots at Honda. Participation of students in Manufacturing Day nearly doubled from 2020, with 4,521 students joining this year.
"One thing we stressed in our workshop was that you don't have to necessarily go to college to be successful at Honda," shared Joey Sippel, an associate from Honda Development & Manufacturing of America's (HDMA) Manufacturing Management Center. Sippel led a workshop with some of his colleagues from the East Liberty Auto Plant on how Honda uses virtual reality to build its products. He said his goal was to teach students a little bit about what happens at the company outside of building cars on the assembly line and show how Honda is changing its business for the future. Sippel's department is responsible for virtual training, so associates can understand their process before getting to the plant floor.
"We are the experts on this topic, but the biggest hurdle for us was to make sure our story could be understood at a high school level," he said. "It was exciting to share how we are progressing as a company."
While the workshops were broadcast live during Manufacturing Day, each workshop was recorded so anyone interested in manufacturing can visit hondafutureworkforce.com, including family and friends of associates. This year, the planning team also produced a virtual escape room to engage participants in solving puzzles while learning about manufacturing. The game can be found here: https://docs.google.com/forms/d/12OEF2lfqp4c4syif10lktpRYjVMhoumJKdSlShgwVTI/viewform?edit_requested=true
Alabama Auto Plant associate Paige Juzang hosted a workshop on 20 Years of Manufacturing in Alabama and enjoyed making an impact on students by sharing information about different opportunities available at Honda. "I think Manufacturing Day impacts Honda's future workforce tremendously," she said. "These days, a lot of people just think about business or engineering roles, not hands-on positions like robot operators or production. Manufacturing Day also gave me an opportunity to work on my public speaking by hosting a workshop."
Additionally, Honda is holding more workshops throughout October as part of Manufacturing Month and participating in Creators Wanted, a national campaign from the National Association of Manufacturers to attract the future workforce in manufacturing. Look for information on HondaWeb later this month for additional Honda Manufacturing Month activities.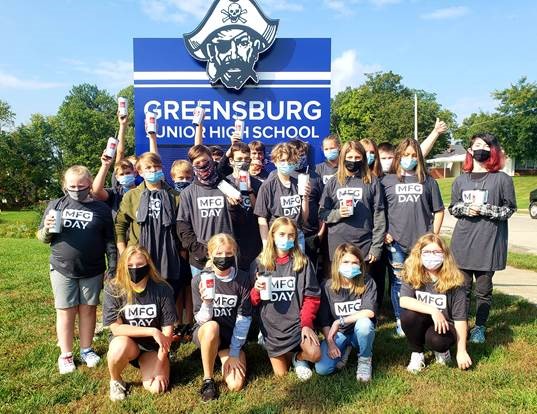 Back To News