Alabama Associates Lend a Helping Hand
This year has already produced one of the most active tornado seasons in Alabama in nearly a decade. So far, 64 confirmed tornadoes have gone through the state, including an area directly north of Honda's Alabama Auto Plant (AAP) where many associates call home.
On March 25, Ohatchee, a small town just north of the Lincoln plant was hit particularly hard by severe storms, including an EF-3 tornado*. After emergency crews opened the area to volunteers, AAP partnered with Interfaith Ministries, a member of the Voluntary Organizations Active in Disaster (VOAD) to provide volunteers to aid with tornado relief.
"Honda has a history of stepping in and lending a helping hand during difficult times," said Stephanie Alexander, Honda Community Outreach coordinator. "The Alabama team was ready to support their fellow associates and nearby communities however possible. When I heard a tornado had hit the community of Ohatchee, I immediately started reaching out to contacts to see what we could do."
A group of 25 AAP associates arrived in Ohatchee on March 30, and worked the next three days helping local community members rummage through their damaged homes looking for valuables and helping to clear limbs and trees.
Earlier this year, an EF-3 tornado* hit the area of Fultondale, a city just north of Birmingham. On March 17, the same community was struck again. Nearly 25 AAP associates loaded buses and headed to Fultondale just a week later to help clear storm debris.
Associates were able to travel to these areas and help during working hours, largely due to industry-wide supply chain issues and parts shortages. March 22 through April 2 were designated as non-production days and associates were provided the opportunity to either take the day off with no penalty, use Paid Time Off to cover the day or come into work and work will be provided.
"I was grateful that Honda allowed associates to volunteer during non-production days," Alexander said. "Our associates saw the importance of the work we were doing and Honda's commitment to helping our communities where our associates live. During the last week of production down time, we were able to help two communities in tremendous need."
*Source: The National Weather Service. In the EF (Enhanced Fujita) Scale, an EF-3 tornado has wind speeds between 136 and 165 mph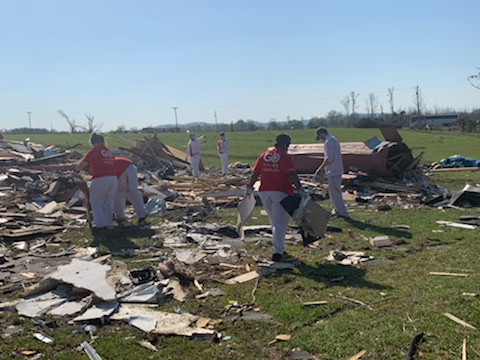 Back To News