Honda Honors Veterans Across North America
This month, Honda took time to honor military veterans in the U.S. and Canada for sacrifices made while serving their countries.
Veterans Day, celebrated Nov. 11, honors all who have served the country in war or peace in the military. In Canada, veterans are honored with Remembrance Day, also on Nov. 11. Regardless of the country or branch of military, Honda honored its associates who have and are currently serving, as well as associates' family members who are veterans.
Below is a look at how Honda honored veterans across North America.
Honda of America Mfg. (HAM)
For the second year in a row, the Honda Military & Veterans Supporters Business Resource Group (BRG) led HAM's participation in the National Veterans Memorial Run. The event went virtual this year, and participants can complete runs, walks and other challenges from Nov. 1-22. Proceeds from the event benefit the National Veterans Memorial and Museum in Columbus, Ohio. The memorial is the only one of its kind in the U.S. that honors veterans from all branches and eras of military service.
At Honda Manufacturing of Indiana, a Wall of Heroes was displayed, featuring photos of associates in uniform, as well as photos of associates' family members who are veterans. On Veterans Day, a banner was displayed and associates added messages of support and thanks.
Due to COVID-19, the City of Greensburg, Ind. traditional walking parade was canceled, however members of the Veterans and Military BRG drove a Honda Civic as part of the new motorcade format. HMIN also sponsored the USO Indiana 5-Star Virtual Gala, and all associates were invited to attend.
For Remembrance Day, Honda of Canada Mfg. recognized veterans in a different way because of the COVID-19 pandemic. Rather than passing out traditional poppies, HCM plants had a poppy wall with a wreath, soldier's boot and banner featuring a local veteran. In addition, the Honda Canada Foundation donated $10,000 to the Alliston Legion's Poppy Fund that supports Canada's veterans and their families.
Honda Transmission Mfg.
HTM also honored veterans with a Wall of Honor that is traveling around the plant for two weeks to give all associates a chance to see it. Associate veterans and active duty military members will also receive a commemorative coin.
Honda R&D Americas (HRA)
At HRA, the Honda Military and Veterans Support BRG recognized Veterans Day with its first speaker. Greg Woerth, of Honor Flight Columbus, talked to members about his six years volunteering with the group that takes veterans to visit memorials in Washington, D.C. at no cost. Honor Flight is a national nonprofit, and the Columbus, Ohio, chapter has flown 5,913 veterans to Washington, D.C. since 2007.
Honda of South Carolina Mfg. (HSC)
HSC stepped up to recognize veterans in a few different ways. All HSC veterans were treated to cupcakes as the plant was decorated with banners recognizing their service. HSC also ran ads on local TV to honor veterans.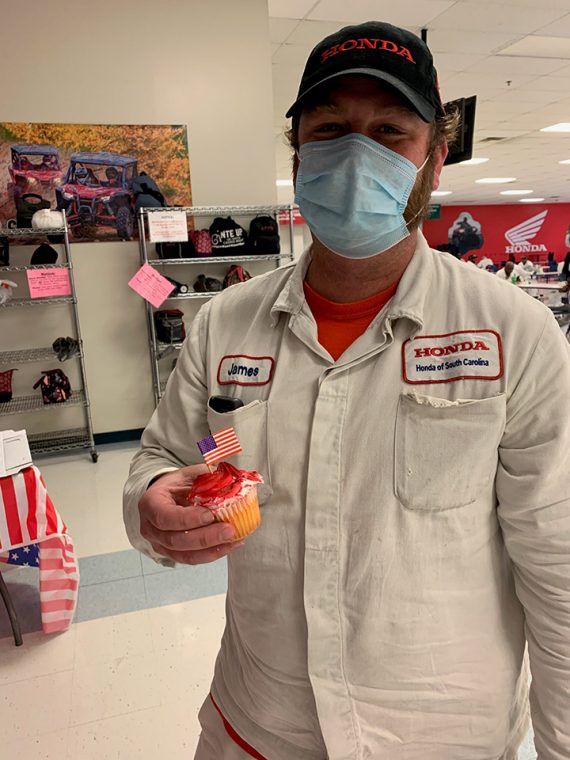 Back To News