Ride for Kids Carries on its Mission – Virtually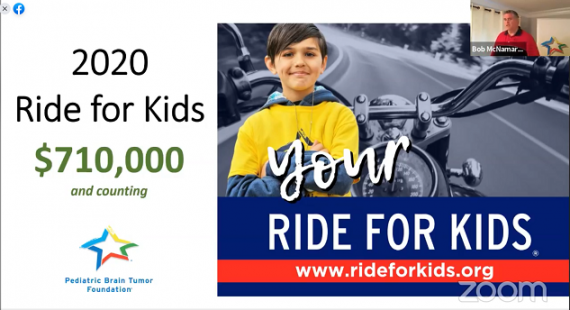 In response to the COVID-19 pandemic, the Pediatric Brain Tumor Foundation's (PBTF) Ride for Kids moved to a virtual model in April 2020. Since 1991, American Honda has proudly been the national presenting sponsor of Ride for Kids, one of the longest running and largest charity motorcycle ride programs in the nation.
This year, Ride for Kids was scheduled to be held in 25 event markets across the country. Quickly assessing the impact of the pandemic on large gatherings this summer, the PBTF shifted to virtual events and adopted a program that encouraged people to ride individually or in small socially distant groups to show their support for children with brain tumors. All summer long, riders were encouraged to continue their fundraising and show their commitment by developing custom challenges or accepting different ride challenges, such as:
Riding 4,600 miles in support of the more than 4,600 children diagnosed this year with a brain tumor
13 individual rides to symbolize the average of 143 children a day that will be diagnosed with a brain tumor
A challenge to ride every day
An Honor 8 ride to show support for the caregivers who never quit on these children
The results were staggering, with over $750,000 raised to date and thousands of riders logging over 3.2 million miles and 42,000 individual rides via the REVER application. The partnership between REVER, PBTF and Honda created an environment where riders could ride for kids anywhere, any place and any time. In addition, the virtual Ride for Kids kept alive the tradition of participants earning a chance to win a new Honda motorcycle, with American Honda generously donated eight motorcycles this year.
On Aug. 30, the PBTF held a Virtual Closing Ceremony for the 2020 Ride for Kids. The event was streamed via Facebook live and attracted hundreds of viewers, with even more viewing the recorded video.
The closing ceremony was a celebration of all the fundraising that was completed to date and all the miles people rode. Riders from all across the country participated in the event, which included appearances from Ride for Kids top fundraisers, sponsors and supporters, as well as some of the brain tumor survivors and their families. The brain tumor survivors specifically talked about how much they missed the Ride for Kids this year, but expressed gratitude for the riders still showing their support despite the pandemic. The livestream also featured the drawings for the new Honda motorcycles.
Chuck Boderman, business unit head and vice president of Powersports at American Honda, represented Honda during the program and commented on how impressive it was to hear the amount of support and activity generated this year by riders and the Ride for Kids.
"An alternative solution was required this year that required creativity, decisiveness and swift action to ensure that riders could still raise money for this important cause during the pandemic," he said. "I am so proud how the Pediatric Brain Tumor Foundation, the amazing team at REVER, our industry the riding community and our Stars all came together to create the innovative Virtual Ride format."
Next year's event will mark the 30th year of American Honda partnering with Pediatric Brain Tumor Foundation. "We don't know yet exactly what shape the rides will take in 2021, but if this year has taught us anything, it's that when passion and teamwork take on a challenge that we can produce wonderful outcomes," he said.
While COVID-19 has cancelled many activities this summer, it did not cancel childhood cancer. Ride for Kids is such an important part of the fight against childhood brain tumors, and riders were not going to let a pandemic stop them from supporting these children.
There is still time to get out and ride in support of this year's Ride for Kids through Oct. 31. Register to ride and start fundraising, or simply make a donation at www.rideforkids.org.
Back To News