Honda Friendship Saves a Life
Honda of America Mfg. (HAM) associates Bob Keating and Mike Erdelsky each have more than three decades of experience at Honda. Keating works in North American Supplier Quality & Delivery and Erdelsky is in New Model Strategy. They became acquainted at work through different projects, but a move by Erdelsky to a Dublin, Ohio neighborhood in 2005, where Keating already lived, unknowingly would end up saving his life.
The two began a friendship through their common passion for running. Keating ran in the community on the weekends with a group from the Columbus Running Company and soon invited Erdelsky to join. The pair have been running together for 15 years.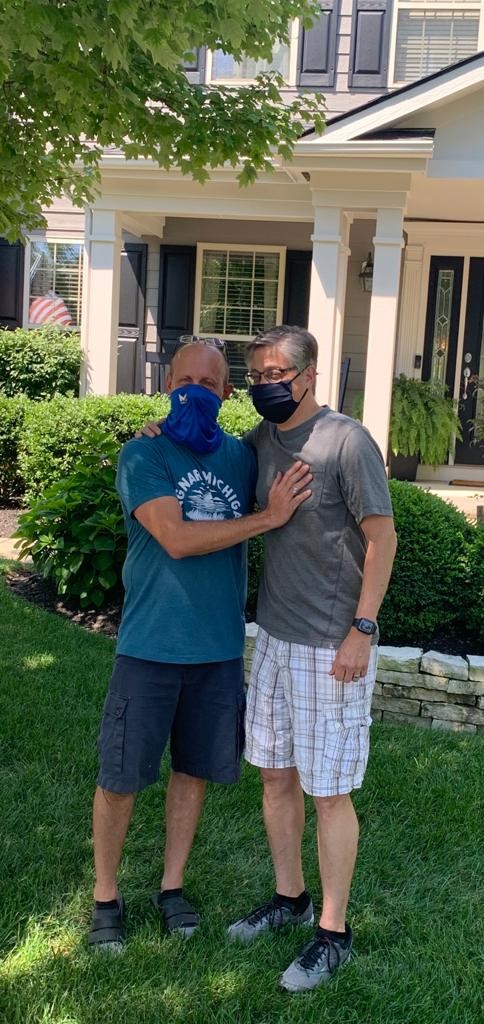 The morning of the 25th was humid, but not too hot, conditions typical for Ohio runners. The first half of the run was going smoothly, but at the four-mile mark, Erdelsky needed to stop. He expressed tightness in his chest, which he thought was just muscle stiffness. He rested for a minute, stretched out, and then decided to continue. About a half mile after stopping the first time, Erdelsky slowed again, this time collapsing on the side of the road from a catastrophic heart attack.
Keating knew he had to act when he saw Erdelsky's eyes gloss over and his body begin to seize. He laid him on his side and pulled his knees up to his chest. With no phone on him, Keating yelled for help. No one responded, so he decided to run over and knock on the door of the nearest house. No answer. Keating again yelled for help and finally a neighbor came outside and called 911.
He returned to his friend's side to see that he was no longer breathing. He laid Erdelsky on his back and began chest compressions until the medics arrived on the scene. It took a total of eight minutes for paramedics to arrive on scene, but for Keating, that was a lifetime. By the time the ambulance departed, Erdelsky was breathing and his heart was beating again. That's when the shock kicked in for Keating.
"As they drove away, that's when it all hit me," said Keating. "I just sat down on the ground and tried to figure out what just happened. It stayed with me for days. I just kept replaying the incident in my mind until I knew he was OK."
Keating's quick action and chest compressions saved his friend's life that day. He credits Honda for offering CPR (cardiopulmonary resuscitation) training over the years, and one distinct NH circle project centered on a Mobilize Rescue Unit that included an interactive first response system for the working knowledge to deliver those lifesaving compressions.
Erdelsky was in the hospital for six days. He had a 90% blockage in the left anterior descending (LAD) artery. Because neurological damage was a concern, he was placed in a hypothermic state to protect his brain. While there were concerns about some memory loss (Erdelsky still does not remember anything from the incident), he was able to pass all tests and was released from the hospital on July 30. Keating was not able to visit his friend in the hospital due to COVID-19 restrictions, so that reunion took place after Erdelsky settled back at home a couple weeks later.
Keating got together with a relay-race group that the pair was a part of, and joined a neighbor-organized meal train for Erdelsky and his family. They had a parade, brought the family food and visited for the first time since Erdelsky's heart attack. For Keating, it was a relief to see his friend in person.
"I kept thinking about all of the 'what ifs'," said Keating. "What if I didn't run with him that morning? What if we weren't near a neighborhood when he collapsed? I was just so thankful that I was there and that I got to see my friend again."
Erdelsky spent weeks in cardiac rehab and returned to work on Sept. 8. He has worked himself back from laying on the side of the road to making his first run on Sept. 19 with the friend who saved his life. Before his heart attack, Erdelsky had signed up to run the Columbus 10K, which benefitted the Ronald McDonald House. The event, held virtually this year, had a deadline of completing the run by Sept. 20.
"I worked my way back carefully and slowly during cardiac rehab," said Erdelsky. "I was cleared to take part in the event with a combination of walking and running, and I wanted to honor my commitment. Of course, there was no better partner to have running with me that day than Keating."
Erdelsky and Keating completed the 10K with no issues.
"I kept asking him how he was doing and what his heart rate was," said Keating. "We were very careful not to push too hard. The goal was to complete the run without incident. Mike rocked it!"
Erdelsky was ready for the moment thanks to the support he was given.
"It's hard to put all of the feelings into words," Erdelsky said about his reunion run. "My first thought was, please don't put Bob and my family through that again! Being strong enough to share that run with Bob, and with my friends and family cheering me on, brings tremendous joy and hope to me."
Prior to their fateful July run, Erdelsky had no signs of heart trouble. Keating remembers even discussing recent checkups and blood test results at the beginning of the run. While he had no personal symptoms or signs there was an issue, Erdelsky did have a family history of heart disease. He urges everyone with a family history to explore more tests than just an annual checkup and blood work.
"It's extremely emotional reliving the incident and having Bob explain it in detail," said Erdelsky. "However, I don't mind because of the way it turned out. This story is 'ours' because without the quick action of Bob and the skill of the staff at Washington Township Fire Department, Dublin Methodist and Riverside hospitals, it would have been told through an obituary. Everyone was amazing to my wife and me. Afterwards, the outpouring of support from our family and friends in the running community and here at Honda has been truly overwhelming. It has given me a lot of strength as I work through my recovery."
Back To News