Grady Smith on his journey from HBOB to working for Honda
American Honda Finance Corp. (AHFC) associate Grady Smith understands the adrenaline rush that students in Historically Black Colleges and Universities (HBCUs) marching bands get from performing in front of thousands of fans on a stadium field. He had the same feeling when he was a student at Alabama A&M University and participated in Honda Battle of the Bands (HBOB) in 2014.
"Everyone wants to reach HBOB, no matter which HBCU you go to," Smith, who became a trombone player in middle school, said. The Alabama A&M Marching Maroon & White band had a new band director that year, and while the director's goal was to make it into HBOB, the students still felt it was a pipe dream. "It was a monumental moment for A&M," he explained when the band found out they made it into the showcase that year.
Once Smith and his peers learned they made it in from their director in the band room, students blasted their instruments in celebration and played in a pep rally-like atmosphere the following week on campus. "We were excited because for a lot of us it would be our first time experiencing it," he said.
Originally from Covington, Georgia, 30 minutes outside of Atlanta, Smith moved back to the Peach State after graduating to be close to his family, and one step closer to his dream. Seeing Honda's presence and support of HBOB inspired Smith to apply for a job at the company. Eventually, he attained what felt like a dream job at Honda.
"I knew the Honda philosophy; we pride ourselves on integrity," Smith said. "I knew I wanted to work for a great company where I could excel and leave my fingerprints, such as with philanthropy." In addition to working as a customer account specialist in AHFC's Alpharetta, Georgia office, Smith is the liaison between Honda and Autrey Mill, a facility which promotes exploration, appreciation and preservation of the natural environment; Honda sponsors many of its events. "Volunteering has always been an interest of mine, and I love the interaction of outdoor life," he said. Smith also participates in other community service initiatives which Honda supports, such as Ride for Kids and MLK Day of Service.
Honda's support of HBCUs and HBOB brings more awareness to the schools and the students. "When you're in a band, especially at an HBCU, you don't think it's possible to work for such a great company because you don't get that exposure," Smith said. "For a company as monumental as Honda to support HBCUs, it gives the students hope."
Smith is now able to serve as a role model for current students from his alma mater. His former band director, who is still heading up the program at Alabama A&M, asked Smith to come back and speak to the current band last fall. "I told them not to be discouraged," he said. "Because of being in an HBCU band and performing at HBOB, I was able to reach my dream. It's amazing to know that I work for Honda."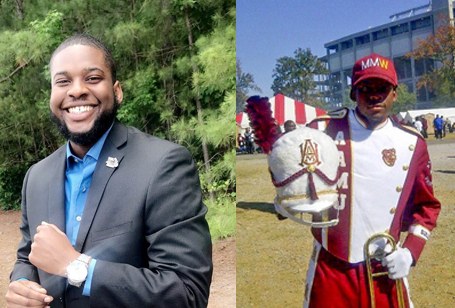 Back To News