Finding the Opportunity to Make a Difference
In nearly 25 years at Honda R&D Americas, Inc. (HRA), Tito Adenihun has done quite a bit of volunteering. And while "the need has increased," according to Adenihun, "the good news is that volunteerism has also increased."
Adenihun is a Principal Systems Engineer in HRA's Information Systems Division, managing HRA's client, mobility, and telecommunications infrastructure, including computers, cellular systems, phones, and tablets. When not leading that work, Adenihun said she most enjoys "activities that benefit the underprivileged and the elderly, because they tend to be forgotten."
Her favorite Honda volunteer activity is the Sharing is Caring Holiday Luncheon, which she's participated in for 21 of her 24 years at HRA. Adenihun and her family arrive early the morning of the lunch to help get things set up. Then they serve a sit-down, catered meal to residents in need from the South Bay area, in partnership with the Salvation Army and Torrance Marriot in California.
Adenihun also enjoys Honda's California Coastal Cleanup Day because her kids get to participate. "They've been going since they were very young," she said. She has pictures of their participation, noting that it's taught them "about the preservation of the environment and the effects of negligence."
For Adenihun, volunteering, which has involved nearly every volunteer opportunity HRA's Torrance Center has offered, is an extension and a continuation of her work. "Typically, I continue to look for opportunities that make a difference for people," she said. "Once those opportunities arrive, I make myself available."
Indeed, when other people's college-aged kids come to the Honda Campus All-Star Challenge, Adenihun is right there to make them feel at home. The event showcases academic talent at America's Historically Black Colleges and Universities (HBCU) and welcomes around 300 students. She has helped with all aspects of the event, from helping the students find their way around, to hosting meals and other social events during their week in the L.A. area.
Every year, Adenihun also goes with a group of HRA and American Honda associate volunteers to the L.A. Food Bank. They spend the day filling boxes with food and supplies for the elderly and homebound. Two boxes, she said, is a month's worth of food, and the group of Honda associate volunteers filled 2,744 boxes in three hours.
And still there's more. Whether it's organizing the logistics of the Evening Under the Stars or counseling students in STEAM at local high schools, Adenihun finds that giving back is what's most meaningful to her.
"Typically, I just continue to look for opportunities that make a difference for people," she said. "Once those opportunities arrive, I make myself available."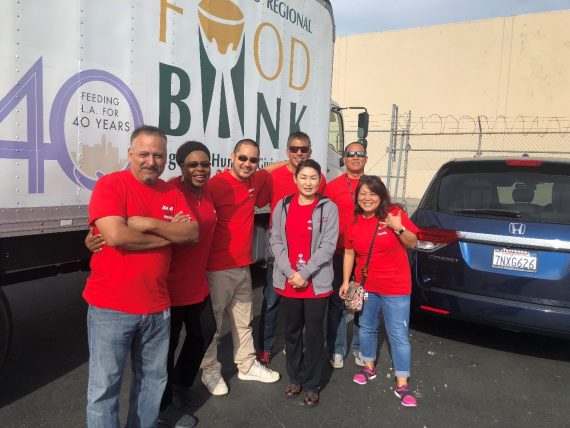 Back To News