Honda R&D Honors Associates for Community Service
Honda R&D Americas (HRA) was proud to recognize two of its associates, Kevin Block and Randy Skiles, recently for contributing to and serving their communities.
One of those associates is Kevin Block.
Understanding how people interface with their surroundings is what Block does every day at HRA in his role as a Human Machine Interface (HMI) engineer. But it was his interfacing with one person, in particular, that earned him HRA's 2018 Citizenship Award: Year of Service.
Block was recognized for his volunteer work with the Community Connectors mentoring program at the Community Refugee & Immigration Services (CRIS) nonprofit in Columbus, Ohio. CRIS "aim[s] to facilitate sustained self-sufficiency and successful integration" for area refugees and immigrants.
"I've been introduced to so many people who've had to cope with so much in their life," Block said. "And still, they just want to go to school, be able to have family dinners, and do things like watch and play soccer."
But it was a young Somali refugee who, Block said, has impacted him the most. For the past two years, Block has served as a mentor to him, helping him adjust to life in Columbus, including finding summer work and navigating the public school system.
As part of CRIS's mentoring program, Block is encouraged to take his mentee to fun activities, including Columbus Crew games, movies, and even rock climbing.
"We've become friends," Block said. "I definitely got a lot more into soccer because of him."
"That's one of the beautiful parts about CRIS," Block noted. "They have in-school mentorships and outside-of-school opportunities, which is what I do."
Block noted, however, that the program has frequent struggles with funding, operating almost entirely from donations. CRIS uses those funds to reach hundreds of kids with job-searching activities, field trips, and more. That made Block's award extra special.
"When I saw there was an opportunity to make a donation to CRIS I was really excited," he said. As a part of his Citizenship Award, Block can direct a financial donation to an eligible nonprofit of his choice. He, of course, selected CRIS.
And that is something Block encourages all associates to do: find a nonprofit they are passionate about and get involved.
"You not only get to do something valuable, but there are some personal benefits as well," he said, "like becoming part of a community and meeting some amazing people. If helping people interests you, then you're going to meet people who are similar."
And those relationships can be life-changing.
It's that type of dedication that makes Honda a company society wants to exist—and that makes associates like Block worth recognizing for his Year of Service.
The other associate awarded for his service was Randy Skiles.
Through his role at HRA, Skiles seeks to make the world a better place, validating products that improve people's lives. For him, however, that's not enough, which is why he has dedicated years to volunteering outside of HRA for students, people with special needs, and families hoping for holiday cheer.
And since he does so much for others, his peers at HRA took notice—and now he is being honored with the 2018 Citizenship Award: Lifetime of Service.
For more than 10 years, Skiles has been an active volunteer around Columbus, Ohio. He has helped set up kayaks, offer moral support, and contribute to driver ski events at the Adaptive Sports Connection nonprofit, which "help[s] people with challenges stay healthy and happy by focusing on their abilities."
He also has been a mentor and major contributor for Science, Technology, Engineering, Arts, and Mathematics (STEAM) activities at the Marysville Early College High School. For other organizations, he has provided homework help, mentored future engineers, and assisted in constructing gravity-racing soapbox cars.
And if that weren't enough, he has raised more than $6,000 for the Care Train of Union County, which "ensures every child, family, disabled adult and senior citizen living in Union County receives Christmas joy regardless of income challenges." That included the year he glittered his beard for the holidays for a fundraising contest. Skiles is also an avid volunteer for The H.U.B. (Heart of Unlimited Boundaries), the organization he selected to receive a financial donation as part of his Citizenship Award.
"I am all about the individuals," Skiles said. "I work with organizations and help where I can, but I really focus on helping the individuals I meet through these organizations."
It's an approach he learned at a young age.
"I was taught that if you can help, do help."
And he, no doubt, does—not only on a personal level, but through his professional one as well.
"I think Honda is a company society wants to exist because it goes the extra mile to make the world a better place," Skiles said. "We are not a company that is all about the dollars and cents. Honda tries to make an impact around the globe through mobility, safety, and environmentally friendly products."
"Volunteering is the same thing," he said. "When you volunteer you are making the world a better place. And one day, that world you are bettering might be part of a child's life where they don't feel sick or are disabled. Volunteering empowers individuals to make a difference in the world."
Skiles should know, since he's done it for a lifetime.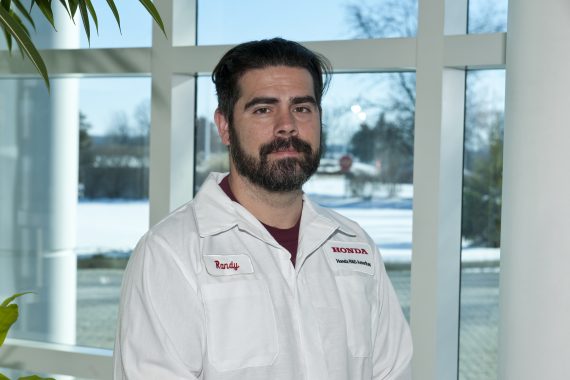 Back To News