Women in Green Forum Celebrates Decade of Environmental Leadership
The Women in Green Forum, sponsored in part by American Honda (AHM) for the sixth consecutive year, celebrated its 10th annual event this month, providing a platform for hundreds of sustainability professionals to develop relationships with leaders in the environmental industry and promote women's environmental leadership.
The forum spanned a variety of topics including supply chain sustainability, single use plastics and the future of environmental action. One new panel this year featured former awardees of the Women in Green Youth Trailblazer Award, presented annually to a full-time student for their work in environmental activism.
Zola Berger-Schmitz, the 2017 awardee who is also an intern with Honda's Connected Environmental Business department this summer, shared tips on becoming active in local schools and communities, as well as how mid-career professionals can support those just starting out in their career.
"One of my biggest tips was to get involved in local conferences and fellowship programs like the Women in Green Youth Mentorship Program," she said. "Organize an event in your community and develop your leadership skills early on by getting other young people together to make an impact."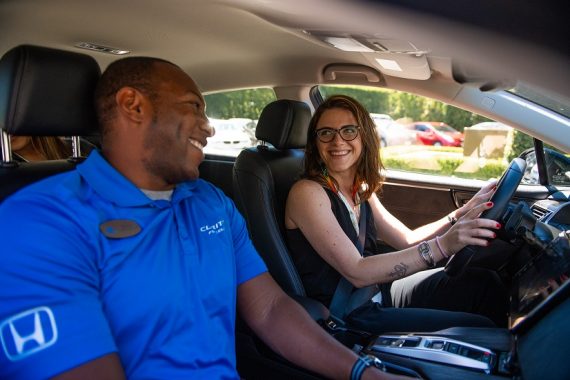 This year's Women in Green Youth Trailblazer Award was presented to Haven Coleman whose environmental activism was sparked by a fifth grade lesson on deforestation and the negative impact climate change is having on sloths, her favorite animal.
Earlier this year, Haven helped mobilize more than 200,000 students from across the country to draw attention to the immediate threats created by climate change.
Raminta Jautokas, AHM Corporate Sustainability manager, presented the award to Coleman on behalf of Honda. "Haven regularly speaks at events across the country to educate audiences and encourage them to join the fight for climate change," Jautokas said of the 13-year-old. "She has become a leading voice in the youth movement for climate action."
Between panels, attendees were invited to test drive the Honda Clarity Plug-in Hybrid. Jautokas shared with attendees that Honda continuously seeks ways to reduce the environmental impact of its products and operations.
"As a company, we have set a goal to reduce CO2 emissions by 50% by 2050, compared to 2000 levels," she said. "We will achieve this goal through the electrification of our vehicle lineup, including hybrid electric, plug-in electric, battery and fuel cell electric vehicles."
While a common theme throughout the day included the harsh realities of climate change, attendees left the forum feeling hopeful for the future. Beth Karlin, founder of See Change Institute, told attendees that while a 100% sustainable future may not be achievable, as long as someone does what they can to improve the current situation they are doing a great job.
Before the forum officially started, 80 mentors and mentees, included five mentors from Honda, got together to kick off the program's Youth Mentorship Program. The program, sponsored by American Honda, matches young professionals interested in environmental advocacy with mentors to learn more about developing their careers.
"I was interested in connecting more with people from a different industry," said AHM associate Ashley Humble, who participated as a mentor for the first time. "I'm really passionate about female advocacy and women in leadership, and I didn't have anyone to help me when I entered my professional career. I want to be that person for the young professional who is interested in the communication field."
Back To News