Honda Makes Charitable Donations on Behalf of Associates
Honda of America Mfg. was proud to donate $5,000 to an organization called the Invention League last month on behalf of Marysville Auto Plant Assembly Department Associate Andrew Cain.
The donation was made as part of a program in which Honda associates in Ohio who participate in volunteer and wellness activities throughout the year are entered into a raffle for Honda products and a donation to the nonprofit of their choice.
Cain served as a judge at the Invention Convention, hosted by the Invention League, at the Ohio State Fair in July. The Invention Convention is a statewide competition for students to display their problem solving and critical thinking skills through products they have invented. Cain said he did it for the kids.
"For many of those young folks at the Invention Convention, their ideas, designs and bold visions are the world to them, and it is imperative that we support those visions."
In partnership with Honda Marysville, HAM also presented Cain with a Honda Rancher, which he said he will enjoy tooling around on his family's 40-acre farm.
Other winners, who will receive a $1,000 donation to the nonprofit they supported, include Tom LaDow, with a donation to Vets Helping Vets; Michael Seif, with a donation to Union County United Way and Cassie Letner, with a donation to Susan G. Komen Race for the Cure.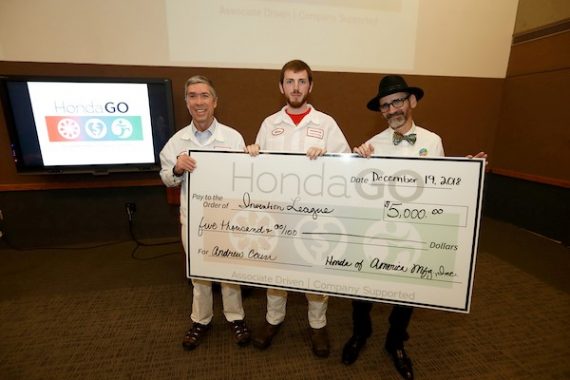 Back To News